Head on over to
http://www.modnique.com/
to see what great deals they have on Valentino Handbags and Shoes 65% Off.Refer a friend and get store credit!
your daily deal BIRMINGHAM presented by
Café Luigi
$20 to Spend on Food and Drink for only $ 9
1 Deal Location
1841 Montgomery Highway
Suite 105
Hoover, AL, 35244
Today's Deal:
Full Day at the Range with Your Gun & Ammo - $7, normally $16
The Company
Alabama Training Institute & Pistol Range
906 North 40h St
Birmingham, AL 35222
205-592-3004
Awesome Groupon Deal today!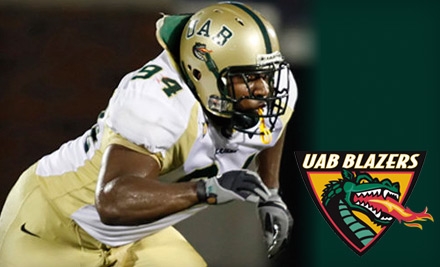 Company Information:
UAB Football
website
Locations:
Bartow Arena East Tower
617 13th St. S
Birmingham, Alabama 35233
Free Shipping On Orders Over $50, Plus Hot Savings on Gift Sets
Check out our new Amazon deal - Write 10 reviews, earn a $10 Amazon.com gift card! Find out more info here:
http://www.viewpoints.com/thegoods/Holiday-10-for-10---Get-a-10-Amazon-Gift-Card
Here Is How To Score Your FREE Teddy Bear From Stuffedanimals.com
.::: Head Over HERE
http://www.facebook.com/StuffedAnimalsDotCom
And "Like"
StuffedAnimals.com
On Facebook
.:::Then Add The Worlds Softest Teddy Bear-Tan Moe 5"
.:::Enter Code FPMOE At Check Out
.::Choose In Store Pick Up
(But They Will Ship It Thats Just To Bypass Getting Charged For Shipping)
And Done! Now You Have A FREE Teddy Bear On The Way!
Ohhh…here's a yummy freebie for ya! Head over to participating
Cold Stone Creamer locations
tomorrow, November 16th, from 5-8PM to snag a FREE 3 oz. portion of the new Eight Layered Cakes. Sounds good to me! (thanks hip2save)
Hurry and text 12DAYS to 29943 to sign up for Starbucks 12 days of Sharing! You will get one offer per day starting Dec. 1st! WOW! Text Messaging rates apply!
2 FREE TACOS AT JACK IN THE BOX - Tuesday, 11/16 After 2pm
Macy's just released a high value savings pass! Head on over here
http://macys.shoplocal.com/macys/default.aspx?action=entryflash&LinkType=Homepage&cm_re=1.1.5-_-HOMEPAGE_INCLUDE_1-_-CATEGORY%20--%205125%20--%20:print%20savings%20pass
and type in your zip code to print a Macy's WOW! Pass which is good for $10 off your purchase of $25 or more, valid 11/16 or 11/17 and only until 1pm. This savings pass can even be used on sale and clearance items, so you should be able to snag some sweet deals!
*Note: Exclusions do apply; make sure to read the fine print.
Borders is offering up two new coupons, valid thru 11/18…
*33% Off the list price of one Item
http://www.bordersmedia.com/coup/33main20101116.html?cmpid=SL_20101116
*40% off the list price of any CD (limit 2)
http://www.bordersmedia.com/coup/40cd20101116.html?cmpid=SL_20101116
(Thanks, Fun Finds for Families!)
YES!
TODAYShow.com
is once again offering some awesome online coupon codes! Just head on over to the "Jill's Steals and Deals page" and start scrolling down to see all the *HOT* offers available! Keep in mind that due to an overwhelming response, some of these products' sites may experience technical difficulties from all the traffic they're receiving.
Here are a few highlights…
*iHome's iH13CQ iPod Carrier and Speakers $14 (retails for $69.99!)
*Gemma Redux Statement Necklaces only $39 (retails for $398!)
*LaRocca Moisture + Cleanser $20 (retails for $145!)
+ More!
http://today.msnbc.msn.com/id/40201355/ns/today-holiday_guide/